50 Years
50 Years of Biomedical Engineering
In 2018, the Biomedical Engineering Society (BMES) celebrated 50 years as the leading professional society for biomedical engineering and bioengineering research, education and innovation. Here we reflect upon the founders and leaders, events and celebrations through which BMES has shaped our discipline over the past 50 years. We look with anticipation and high expectations for BMES and its members to impact our discipline with transforming discoveries in the coming 50 years.
Presidents / 1968-1978
Otto H. Schmitt, PhD
Robert F. Rushmer, MD
Jack H.U. Brown, PhD
Fred S. Grodins, MD, PhD
Donald S. Gann, MD
James F. Dickson, MD
James B. Reswick, PhD
F. Eugene Yates, MD
Ernst O. Attinger, MD, PhD
John Urquhart, MD
James B. Bassingthwaighte, MD, PhD
Richard J. Johns, MD
1968
On April 17, 1968, Otto Schmitt together with Jack HU Brown convened a group of 90 scientists and engineers at the Annual Meeting of the Federated Societies of Experimental Biology, or FASEB, in Atlantic City to form the "Bio-Medical Engineering Society."
Otto Schmitt agrees to act as Presiding President of the Biomedical Engineering Society. A physicist recognized for his seminal contributions to circuit design, the surface electrocardiogram, electro-magneto-biology, Schmitt also founded the Biophysical Society and was a member of the National Academy of Engineering.
Later that year, the Society is incorporated in Illinois.
1968
Meeting again at the "Houston General Meeting" in November 1968, a small group of BMES members adopts a governance structure that will persist for decades. Robert Rushmer is nominated and elected as President, with Jack HU Brown serving as President-elect.
As Executive Secretary of the Physiology Training Committee at the National Institutes of Health, he worked with engineers and scientists working in biomedical and biological research, and saw the need to convene a group of "biomedical engineers." Brown was the first person elected to National Academy of Engineering for "biomedical engineering."
1970
The inaugural Alza Distinguished Lectureship is awarded to Richard Bellman, for his work in application of mathematics to medicine. The Alza Distinguished Lectureship will continue for only several years, after which the award is assumed by the Society as the BMES Distinguished Lectureship Award. BMES has 341 members.
1972
Annals of Biomedical Engineering is launched in August 1972 with co-editors John Lyman and Eugene Yates.
BMES continued to meet this year, just prior to FASEB in Baltimore. That same year, FASEB refused to admit BMES as a member Society and BMES chose to join Alliance for Engineering in Medicine and Biology (AEMB) as an affiliate member.
1974
Kay Lyou, Editorial Assistant to John Lyman, is appointed the first Executive Director of BMES.
1975
The American Physiology Society adopts BMES as guest society and hosts space for BMES at the FASEB annual meeting. The BMES will meet annually in the Spring at future FASEB meetings until its first stand-alone meeting in 1999.
Top, from L to R: Peter Katona, Thomas Harris, Richard Skalak, Ernst Attinger, James Bassingthwaithe, YC Fung. Bottom, from L to R: John Lyman, NA, Richard Skalak, Rena Bizios, Thomas Harris. Prof. Bizios will be the first female leader in the BMES, taking on the roles of Meetings Chair in 1983 and Program Chair for the 1991 Spring meeting.
1977
Under Presidents Eugene Yates in 1974-75, and Ernst Attinger in 1975-76, the Society entertains expanding its charge to include preparation and greater participation by students. The Constitution is revised to include creation and oversight of BMES student chapters. University of California, Los Angeles, forms the first student chapter in 1977 and is quickly followed in 1978 by chapters at Boston University, Rensselaer Polytechnic Institute, Duke University, and University of Utah.
Presidents / 1978-1988
Laurence R. Young, ScD
John Lyman, PhD
Robert Plonsey, PhD
Yuan-Cheng B. Fung, PhD
J. Lawrence. Katz, PhD
Thomas R. Harris, MD, PhD
Peter G. Katona, ScD
Richard Skalak, PhD
Gerald M. Saidel, PhD
Morton H. Friedman, PhD
1978
The Lamport Young Investigator Award was established in 1978 following the 1975 death of professor of physiology and biophysics, Harold Lamport, of the Mount Sinai School of Medicine of the City College of New York. Lamport contributed to research on the physiology and circulation of the blood. The first award was given in 1982 to Neil Fearnot (shown bottom) and was to continue as the Lamport Award for many years. Cheng Dong is shown receiving the Lamport Award in 1991 with Executive Director Rita Schaffer and BMES President Schmid-Schönbein at his side.
1980
The first issue of the BMES bulletin is published. Designed to deliver cutting-edge research updates and Society news to members, the Bulletin will be replaced by the BMES Blog in 2013.
Publishing the Annals of Biomedical Engineering is turned over to Pergamon Press; BMES membership is 712.
1981
Executive Director Rita Schaffer is appointed. Working out of her home in Culver City, Ms. Schaffer is a devoted administrator and leader for the BMES in its early years.
1985
Membership categories now include members, student members, senior members (> 6 years) and sustaining members. Membership directories will be printed and mailed to all members at this time.
1987
BMES becomes a participating body of the Accreditation Board for Engineering and Technology or ABET. Recognizing biomedical engineering as a distinct discipline, ABET sets out to establish educational standards that introduce quality, precision and safety consistently across all educational programes and the profession. BMES forms an accreditations committee in 2001 to support moving BMES towards the lead society in 2003.
Presidents / 1988-1998
H.K. Chang, PhD
Daniel J. Schneck, PhD
Geert W. Schmid-Schonbein, PhD
John H. Linehan, PhD
Robert M. Hochmuth, PhD
Jen-shih Lee, PhD
Larry V. McIntire, PhD
Douglas A. Lauffenburger, PhD
Herbert H. Lipowsky, PhD
Eric J. Guilbeau, PhD
1990
BMES holds its first stand-alone Annual Meeting in Blacksburg, VA with a $15,000 grant from the Whitaker Foundation. Annual Meeting Proceedings are published as a volume edited by Donald Mikulecky and Alexander Clarke.
1992
This is the first year of the awarding of the BMES Fleetest Feet student award that goes to a University with students that travel the most miles to attend the annual meeting. This is an accumulation of students sent and miles traveled, and the first award went to Arizona State University for sending 21 students to University of Utah, a total of 10, 756 miles.
1993
BMES celebrates its 25th birthday with a cake and celebration at the annual Fall meeting in Memphis. Left to right: Thomas Harris, Peter Katona, YC Fung, Richard Johns, James Bassingthwaithe, Eugene Yates, Jack Brown and Otto Schmitt.
1994
BMES takes ownership of the Annals of Biomedical Engineering and Blackwell agrees to serve as publisher with 6 issues per year. James Bassingthwaighte is the Editor in Chief.
View editorial_1994.pdf
Presidents / 1998-2008
Herbert F. Voigt, PhD
Thomas C. Skalak, PhD
Linda C. Lucas, PhD
John M. Tarbell, PhD
Kyriacos A. Athanasiou
Wolf von Maltzahn, PhD
Frank C. P. Yin, PhD, MD
Shu Chien, PhD, MD
1998
BMES loses its Executive Director, Rita Schaffer, to illness. The Rita Schaffer estate is donated to BMES where it is used to rename the Young Investigator Award and to fund undergraduate student awards at each of the 23 ABET-approved BME student programs.
With new Executive Director, Pat Horner, at the helm, the BMES moves to new headquarters in Landover, MD.
1998
President-elect Herb Voigt recommends that the Society appoint a historian to insure that an accurate record is retained of BMES history. He recommends Paul Fagette, who completed the first written history in 2003 and continues as historian to this date.
Fagette goes on to insure that historical records are archived at the National Museum of Health and Medicine in Silver Spring, MD.
1999
Under the stewardship of President Herb Voigt, an 85-page long-range plan and request for funding is submitted to the Whitaker Foundation, "A Grand Vision for a Full-Service Professional Society for Biomedical Engineering."
On January 15, Peter Katona, President of the Whitaker Foundation, approves the proposal and $1M is awarded to sustain and expand BMES educational and organizational activities over the coming years.
2000
The BMES International Lecturer Award is established with a gift from the family of Jen-shih Lee. This lectureship is intended to recognize individuals for their contributions to the advancement of biomedical engineering across the globe. The first award goes to Guenter Rau of Aachen University of Technology & Helmholtz-Institute for Biomedical Engineering. The award will persist for two more years and go to Marcos Intaglietta and John Abele.
2000-01
BMES holds its annual meeting in a hotel conference center for the first time, at the Doubletree Hotel in Seattle. BMES reports 2, 842 members.
With support of a grant from the Whitaker Foundation, BMES undertakes offering industry internship learning opportunities and career conferences through an alliance of universities, called the Career Alliance. The program will continue under the auspices of the Alliance and then taken on by BMES in 2012.
2001
James Bassingthwaite steps down as Editor-in-Chief of Annals of Biomedical Engineering and Larry McIntire takes up the task until 2010, when Kyriacos Athanasiou becomes Editor-in-Chief. This is followed by Stefan Duma in 2018.
The first student representative to the Board is named, Shayn Pierce, who will go on to win the Rita Schaffer Young Investigator Award just a few years later.
BMES launches its first Society website.
2002
BMES elects its first female president, Linda Lucas. She undertakes a professional strategic planning process for BMES producing a roadmap for the future. Five task forces are appointed and charged with implementation of the strategic plan.
Linda Lucas is shown here with Jack Linehan, BMES President from 1992-93.
2004
Recognized as a great benefactor of biomedical engineering education and research, the Wallace H. Coulter Foundation gives a generous grant to BMES to accelerate its position as the lead society for ABET accreditation. This first grant will also support an expansive membership campaign.
The Coulter Foundation will go on to provide an additional grant to BMES in 2012 to establish the Coulter College and the Career Alliance. With this investment, BMES and Coulter together recognize the value of design, innovation, career development and networking in professional success.
2004
BMES creates the nominated designation of Fellow and recognizes its first class of founding Fellows in 2004.
The first industry chapter of the BMES is also created in Houston, TX.
Shown here sharing awards is Kyriacos Athanasiou, BMES President from 2003-04.
2006
The BMES launches a sister journal to the Annals, Cellular and Molecular Bioengineering, with Edward Guo and David Odde as Co-Editors-in-Chief. The journal begins with four printed issues per year.
Presidents / 2008-2018
George Truskey, PhD
Richard Waugh, PhD
Gilda Barabino, PhD
Richard T. Hart, PhD
Lori Setton, PhD
Dawn Elliott, PhD
2008
BMES holds its first reception for Women of BMES at the annual meeting in Los Angeles. This event goes on to become the Women of BMES luncheon in 2008 in St. Louis and continues as a well-attended event each year.
The BMES Distinguished Lecturer Award is renamed in 2007 as a tribute to Robert A. Pritzker an industrialist who was elected to the National Academy of Engineering in 1991 for "innovative use of industrial engineering and management principles in the growth and development of diversified product-based manufacturing operations." A dedicated alumnus of Illinois Institute of Technology, Pritzker (shown left) was a lifelong philanthropist and supported the formation of the Pritzker Institute of Biomedical Science & Engineering. The Pritzker Distinguished Lecturer Award is intended to recognize an individual's outstanding achievements, originality, and leadership in the science and practice of biomedical engineering. The first awardee was Buddy Ratner (right).
2008
BMES welcomes its 5th Executive Director, Edward Schilling who will stay with the Society for over 10 years. In that interval, the BMES will grow to more than 7,000 members, an Annual Meeting with more than 4,000 registrants, and total reserves exceeding $1.5M.
2009
The BMES Diversity Award is created to recognize an individual or organization that demonstrates a sustained commitment to supporting diversity in the profession. In 2009, the first award is given to Sheldon Weinbaum, shown with BMES President George Truskey and Diversity Committee Chair, Sangeeta Bhatia.
BMES holds its Annual Meeting in a Convention Center for the first time, at the David Lanvin Convention Center in Pittsburgh. The 2010 meeting will be held in the Austin Convention Center in Texas.
2010
The BMES launches a sister journal to the Annals, Cardiovascular Engineering & Technology, with Ajit Yoganathan as the Editor-in-Chief. The journal begins with four printed issues per year.
2010
The BMES launches an electronic publication, e-Bulletin, and hires a full-time Communications Director. The demand for modern communications to our membership has now outpaced the printed bulletin.
2010
The first "Meet-the-Faculty Candidates" poster session is held at the 2010 BMES Annual Meeting at the Austin Convention Center in Texas. This becomes a popular and crowded event marking BMES as the go-to society for new faculty hires.
BMES holds a President's reception celebrating minorities in the Society which transitions to become a Celebration of Minorities luncheon in subsequent years.
2012
Professor Gilda Barabino begins a 2-year term as President of BMES, only the 2nd woman and the 1st African American to serve the society as President.
2012
BMES President Rick Waugh recruits the Society for the Physical Regulation in Biology and Medicine to join BMES as a Special Interest Group (SIG) called Cellular and Molecular Bioengineering. This SIG is soon to be followed by the Medical Device SIG and the Advanced Biomanufacturing SIG in 2017. These early SIG hold events of disciplinary interest at the Annual Meeting, but also hold stand-alone meetings annually.
2013
Sue Van, Coulter Foundation President and CXO, is awarded the BMES Distinguished Achievement Award for sustained commitment to growth and excellence in education and programming for the BMES.
2013
The first BMES Professional Development Webinar "How to Prepare an Effective Poster Presentation" convenes on February 27, 2013. The webinars are designed to enhance and progress professional skills and promote lifelong high-quality education and career advancement of a diverse community of biomedical engineers.
2016
The Coulter Foundation will make an award of $1.2M to Prof. Barabino under the stewardship of BMES to support an annual Coulter Award on Healthcare Innovation, the formation of the Coulter Minority Network, and the Coulter College annual event. Shown here is Omar Ishrak, CEO of the Medtronic Corporation as the receipient of the Coulter Award in 2016.
2016
BMES President Rich Hart, formerly Chair of the Council of Chairs, negotiates an affiliation with the BMES. Together, BMES and the Council of Chairs will support educational activities and the broader mission of the > 100 BME degree-granting departments nationwide.
2017
The BMES affiliates with the National Society of Black Engineers (NSBE) to support the goal of graduating 10,000 black engineers by 2025. BMES offers discounted membership to NSBE members, supports NSBE member travel to the Annual Meeting, and offers expanded meeting programming. BMES President Lori Setton and NSBE National Vice-Chair Kris Rawls are shown at the signing event.
The Athanasiou Family creates a fund to support BMES awards recognizing excellence in research publications originating from trainees. The fund will go on to recognize accomplishments in technology translation, research excellence, and exceptional service from senior BMES members.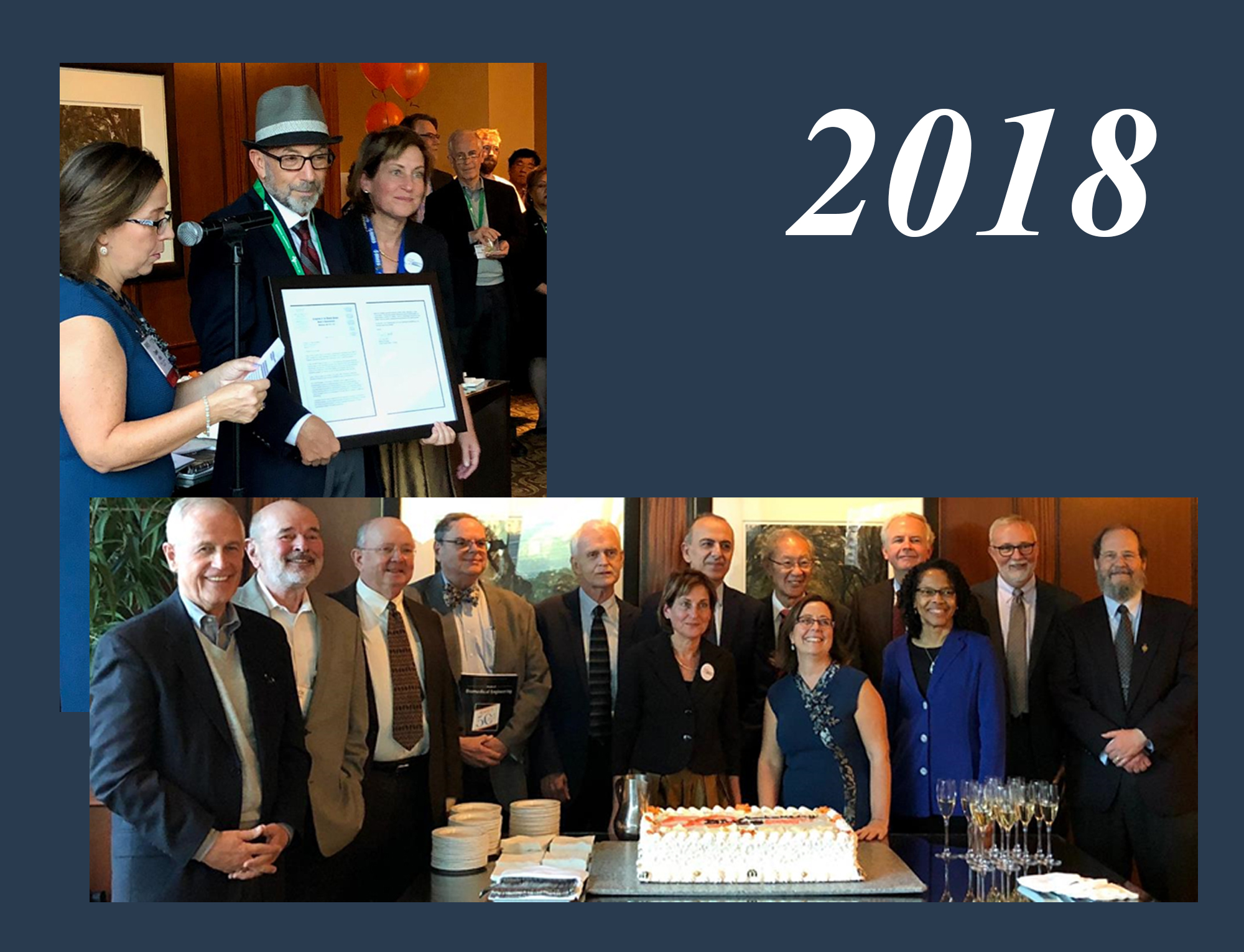 2018
The celebration of 50 years of BMES included a repeat of the 25th anniversary cake and lineup of former presidents. BMES also delivered Commendations from the 115th US Congress honoring the Wallace H. Coulter Foundation and Uncas A. Whitaker Foundation for their enormous contributions to the biomedical engineering discipline and Society. Shown left are incoming President Dawn Elliott, Coulter Foundation VP Elias Caro and President Lori Setton.
The presidents, from left to right, Geert Schmid-Schoenbein, Jack Linehan, Larry McIntire, Herb Lipowsky, John Tarbell, Lori Setton, Kyriacos Athanasiou, Frank Yin, Dawn Elliott, George Truskey, Gilda Barabino, Rick Waugh and Rich Hart.
2018
Under the leadership of Clemson University, BMES compiles 50 years of devices, artifacts, and mementos into a Time Capsule, shown top right, to be opened in 2073. The capsule contains heart value, insulin pump, drug-eluting stents & more. Engraved tiles line the outside of the time capsule honoring the contributions of our founders and Society participants.
2018
2018 marks the creation of a new award, the Mid-Career Award, developed to recognize meritorious achievements and energetic leadership in BME scholarship, education, mentorship, or practice. The inaugural winner is Cynthia Reinhart-King of Vanderbilt University, and former meeting co-chair (2016) and Secretary of the BMES Board of Directors.
BMES 50th Anniversary: Call for Historical Photos
The Biomedical Engineering Society will celebrate its 50th Anniversary in 2018. Several programs and events are being planned to recognize the milestone.
The 50th Anniversary Committee requests that members search their offices, homes, and old hard drives for photos that document the Society's 50 years.
Dates